Published: Tuesday, November 03, 2015 11:12 AM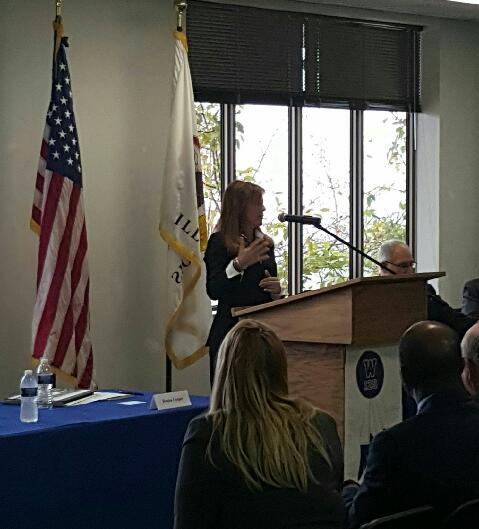 AURORA — West Aurora School District 129 today announced its proposed new West Aurora School District Campus – a 15-acre site near the intersection of Galena Boulevard and Edgelawn Avenue on Aurora's west side.
"The unique partnership demonstrates how high quality education offerings affect economic development and quality of life in the community," said District 129 Superintendent Jeff Craig. "Most certainly, this investment from the District, the City of Aurora and Advocate Health will benefit West Aurora School District for generations to come."
The campus will be home to the district's new Early Childhood Development Center, new district administration offices, and a new technical training center.
The agreement comes 14 months after a capital needs referendum that identified early childhood and post-secondary training as areas to expand upon, Craig said. State Sen. Linda Holmes, D-Aurora, assisted the district by bringing together representatives of Advocate and the school district.
"This is the result of government, business and school districts working together," Holmes said. "Dreyer has been a member of the community for nearly a century and this is an investment in the community that will enrich education for generations of students to come."
Advocate Health Care will donate part of what is now the Dreyer Medical Clinic building at 1870 W. Galena Boulevard to house the district's new Early Childhood Development Center. West Aurora Schools will purchase the facility for just $600,000. More than 1,000 students and their families will benefit from the center that will replace the Todd Early Childhood Center.
"Advocate Dreyer has been an important part of the Aurora community for nearly 100 years and we are so pleased to build on our partnership and donate our building for such a worthy cause," said Donna Cooper, President of Dreyer Medical Clinic and Chief Operating Officer of Advocate Medical Group.
Advocate will begin the transition process to its new facility next spring. The new Early Childhood Development Center is expected to open for the 2018-19 school year.
The West Aurora Board of Education also approved the purchase of the building immediately south of the clinic at 1877 W. Downer Place to house the district's central administration. The current administration building is nearly a century old and in need of $800,000 in repairs. The move will place the district's headquarters more conveniently.
"This facility will enable more interaction with district administration and staff, students and parents," said Craig. "We are being more cost efficient by transitioning into existing facilities as opposed to building brand new or investing in our current aging infrastructure."
The district expects to be fully operational in its new headquarters by the start of the 2016-17 school year.
The City of Aurora will provide a $150,000 tax rebate to Advocate Dreyer, offsetting part of West Aurora Schools' purchase of its new property. In exchange, the City will secure the current River Street administration building and seek redevelopment opportunities.
"This is a win-win-win for all involved because we know all too well the difficulties of repurposing medical buildings and special-use facilities like the current District 129 headquarters," said Aurora Mayor Tom Weisner. "As a major employer, District 129 will provide immediate economic stability to the West Galena corridor, as the City works to put the current building back on the tax rolls. We are here today because District 129 parents and taxpayers chose to invest in Aurora's most important resource – our children."
Finally, the school district announced the construction of a new technical training center on the campus that will provide opportunities for students to pursue dual credit classes, job-ready training and career certifications as a part of the Pathways to Prosperity initiative. Training available includes Advanced Manufacturing, Information Technology, and Health Occupations services.
This component is a result of many years of research and planning on the citywide Pathways to Prosperity initiative. Currently, West Aurora students are traveling nearly two hours each day to a training center 19 miles away in Maple Park. Groundbreaking for the tech center on the southwest corner of the new campus could happen as early as next summer.
Complete plans for the proposed West Aurora School District Campus are available at <a href="http://www.sd129.org">www.sd129.org</a>.
Category: Uncategorised