Published: Thursday, March 09, 2017 02:59 PM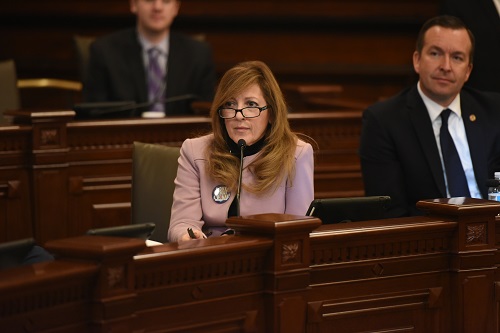 SPRINGFIELD — In a senate hearing with Acting Director Anna Hui of the Illinois Department of Labor, State Sen. Linda Holmes, D-Aurora, asked what cuts could be made in the Department of Labor to balance the $4.6 billion out of balance budget.
"Being that the governor's proposed budget was $4.6 billion out of whack and we're now finding that that number might be more optimistic than it's going to be, I would appreciate hearing from the department itself where you would be most willing to make those cuts," Holmes said. "Where would you like to see those cuts if we are in a position where they have to be made?"
"We are not in the position to speculate about where those cuts might come from," Hui said, to which Holmes replied: "Okay. Let's call that nonresponsive."
This week, Sen. Holmes and her fellow Democrats in the Senate have asked more than ten heads of state agencies what they would do should they be asked to cut their agencies' budgets. In this year's budget proposal, Gov. Rauner put forward a plan that spends $4.6 billion more than it collects in revenue. Rauner's FY 18 budget proposal relies on the General Assembly to close this $4.6 billion gap by proposing new revenues or making cuts to programs.
"Gov. Rauner has been asking the General Assembly to give him the authority to make budget cuts for months. I would expect the governor's agency heads to have some cuts already in mind," Holmes said. "Clearly that is not the case."
Director Hui is one of at least sixteen other state agency directors who have appeared before the Illinois Senate this week. None have suggested cuts to their departments' budgets.
Category: Latest