Published: Tuesday, February 27, 2018 05:23 PM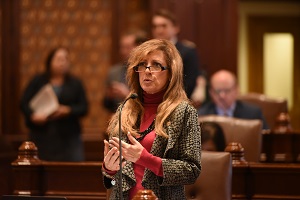 SPRINGFIELD – To improve access to information about human papillomavirus (HPV) for young people in Illinois, state Sen. Linda Holmes (D-Aurora) introduced legislation in a Senate committee meeting.
"This legislation ensures that all sixth-grade students in Illinois receive information about the HPV vaccine and its importance in preventing dangerous illnesses later in life," Holmes said. "Since 2007, only girls have received information about the vaccine. If we want to decrease cases of HPV and associated conditions like cervical cancer, we need to do a better job of educating younger generations."
Holmes' legislation requires students entering sixth grade to be given information about the HPV vaccine from a doctor. Starting in 2007, state law began requiring only female students to receive this information. The Centers for Disease Control has recommended and approved the vaccination for males since 2011.
"Annually, HPV causes 30,700 cancer diagnoses in both men and women," Holmes said. "Updating the law to include boys will raise awareness about the vaccination and ensure that it is administered around age 11 or 12, when the immune response is best. This legislation does not require anyone to be vaccinated, but it will give more information to all students and their families, saving lives down the road."
The legislation, Senate Bill 2866, was approved by the Senate Public Health Committee. It awaits consideration by the full Senate.
Category: Latest