Created: Tuesday, August 26, 2014 09:46 AM
Published: Tuesday, August 26, 2014 09:46 AM
"This measure protects biodiversity in our state and ensures that bear, wolf and mountain lion populations can grow to sustainable levels." - State Senator Linda Holmes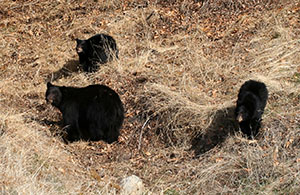 SPRINGFIELD – Bears, wolves and mountain lions now have added protections in Illinois after a measure sponsored by State Senator Linda Holmes (D-Aurora) was signed into law.
Now, American black bears, gray wolves and mountain lions are protected species under the Illinois Wildlife Code. These animals were native predators, but have been absent for decades in Illinois.
"This measure protects biodiversity in our state and ensures that bear, wolf and mountain lion populations can grow to sustainable levels," Holmes said.
Before this law, these animals could be hunted at will in Illinois. Holmes' proposal allows Department of Natural Resources (DNR) to regulate their population growth. Almost every other mammal, including bobcats and coyotes, is already regulated under the wildlife code.
According to the Cooperative Wildlife Research Laboratory at Southern Illinois University at Carbondale, since 2000, at least seven gray wolves, four mountain lions and two black bears have been spotted in Illinois.
Category: New Releases