Published: Wednesday, February 20, 2019 01:59 PM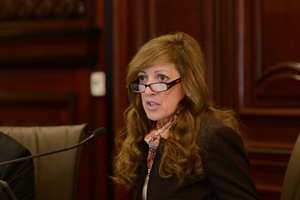 SPRINGFIELD –Messages of budgetary stability and restored economic health are what State Senator Linda Holmes (D-Aurora) took away from Gov. JB Pritzker's state budget speech this afternoon with his proposals for the upcoming state budget year, which covers July 1, 2019, through June 30, 2020.
Holmes was encouraged to hear Pritzker acknowledge the state's dire need for a capital plan, after ten years without timely action on necessary infrastructure maintenance, repairs and new construction.
"We desperately need a stable, ongoing plan, and I'm getting input from my municipalities and school districts on their most urgent needs," Holmes said. "The governor and I agree this issue requires us to do more than just fix what's broken. I hope to see specific plans in the coming weeks that will invest in our infrastructure, create jobs and boost our economy to meet future challenges."
Category: Latest